About
This organization cooperates with the "Startup Promotion Department" that provides startup support centered on the incubation business and entrepreneurship education in collaboration with the Graduate School of Engineering, the promotion of various commercialization promotion programs, and the "International Open Innovation Organization Management Department". The "Industry-Academia Innovation Promotion Department" is responsible for designing ecosystem-type innovation models that lead to business creation, creating various exit strategies, and is responsible for the management and utilization of intellectual property and overall research contracts, as well as domestic and overseas. Strategic management of specific technical fields in industry-academia collaborative projects, the "Intellectual Property Contract and Management Department", which has an IP contract group and an IP management group that are in charge of contracts, and the office work of the University of Tokyo headquarters We are promoting industry-academia collaborative creation and carrying out related practices in collaboration with the industry-academia collaboration legal department and industry-academia collaborative creation department within the organization.
Furthermore, we maintain close cooperation with related external organizations such as the University of Tokyo TLO Co., Ltd., the University of Tokyo Collaborative Creation Platform Development Co., Ltd. (UTokyoIPC), and the University of Tokyo Edge Capital Partners Co., Ltd. (UTEC).
Opened in the University of Tokyo Entrepreneur Plaza (completed in 2007), Komaba Campus Komaba II CCR Building (completed in 1998), and Hongo Campus Hospital District South Research Building, with the Hongo Campus Industry-Academia Collaboration Plaza (completed in March 2004) as the main base of activities. The University of Tokyo Entrepreneur Lab (completed in October 2018), the University of Tokyo Entrepreneur Hub (completed in June 2019) opened in the Kashiwa II Campus Industry-Academia-Government-Private Collaboration Building, etc. However, we are promoting business start-up support, strategic management and operation of intellectual property, and planning support for industry-academia collaborative research.
Organization chart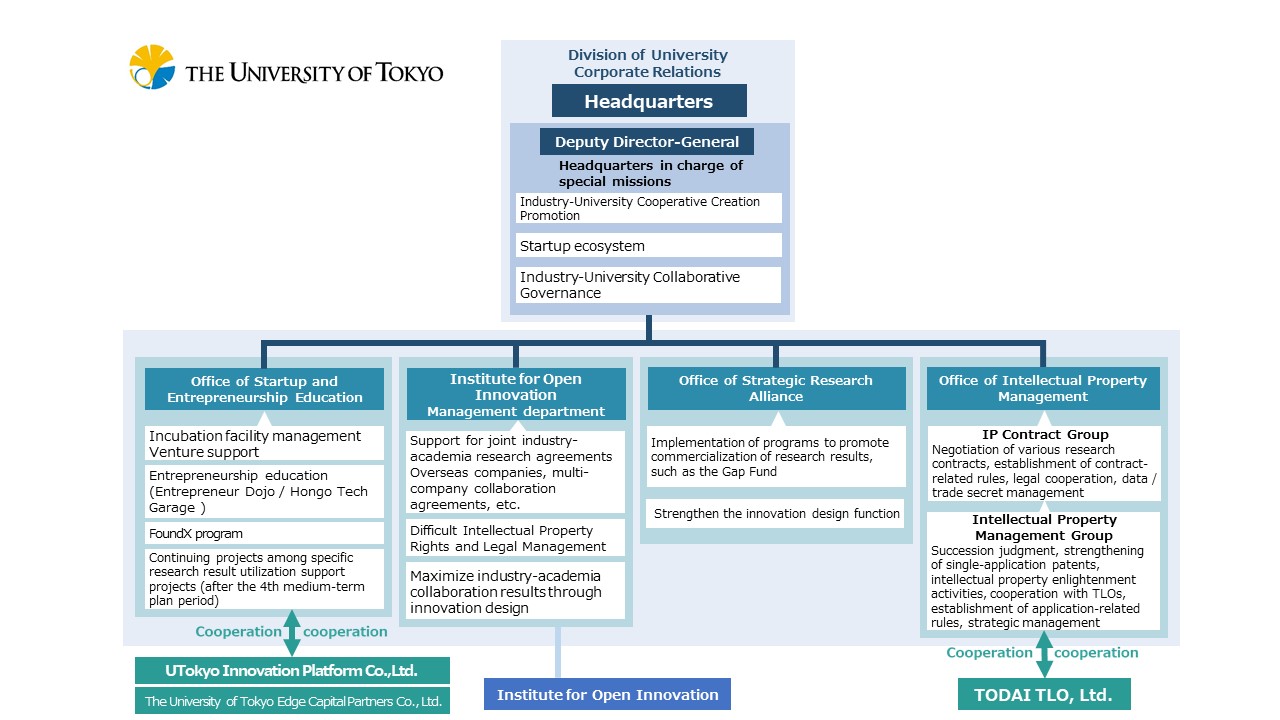 ※Click on the org chart to enlarge.

Executive Directors
Executive Director and Vice President
(in charge of industry-academia-government collaboration)

Toshiya WATANABE
Division of University Corporate Relations
Director General

Toshiya WATANABE

Deputy Director General

Shinobu YOSHIMURA
Hiroyuki TAKAHASHI
Taketoshi MORI
Shinichi WARISAWA
Takeo HOSHINO
Shigeo KAGAMI
Tomoko SUGANO
Yuichirou NAKAYA
Keisuke NAKAO